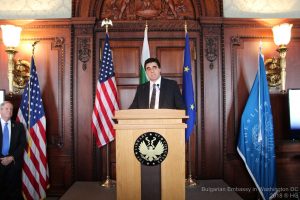 On March 1st, 2018, the Bulgarian Embassy in Washington, DC held a reception at the Library of Congress on the occasion of the Bulgarian National Day. More than 250 guests, including representatives of the Congress, the State Department and the Administration, the diplomatic corps, analytical centers and non-governmental organizations, business, academic and cultural communities, as well as representatives of the Bulgarian community in the area of Washington celebrated the 140th anniversary of the Liberation of Bulgaria.
Among the guests were Congressman Joe Wilson, Founder and Co-chair of the Bulgaria Caucus in the US Congress, Ambassador Sean Lawler, Chief of Protocol of the Department of State, Ambassador David O'Sullivan, Head of the EU Delegation in the US, Former US Ambassadors to Bulgaria Avis Bohlen, James Pardew, James Warlick, Roderick Moore, Honorary Consuls of Bulgaria for the State of South Carolina Donald Tomlin and the State of Louisiana David Korn.
Representatives of several Jewish Organizations, including American Jewish Committee, B'nai B'rith International, Anti-Defamation League, National Coalition Supporting Eurasian Jewry, and World Jewish Congress were also present at the meeting.
The official part of the reception was opened with the national anthems of Bulgaria and the United States, performed by vocal ensemble "Orpheus", directed by Tatyana Sarbinska. Ambassador Tihomir Stoytchev, Congressman Joe Wilson and Elizabeth Millard, Principal Deputy Assistant Secretary for Europe and Eurasia in the State Department, welcomed the guests.