Lowest Cost of Doing Business and in the Middle of Three Continents
Bulgaria o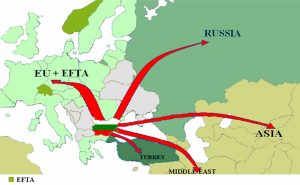 ffers the lowest cost of doing business in Europe with a mere 10% flat corporate income tax.  It is located within a 750 mln. consumers market right in the middle of three continents. Bulgaria is in close proximity to unsaturated emerging markets, while an integral part of the European Union and NATO. With a stable political and regulatory environment, incentivizing investment regime and one of the most competitive costs of labor in Central and Eastern Europe, Bulgaria has made significant progress in creating a favorable investment climate.
Bulgaria's strategic geographic location serves as a bridge between the EU and the rapidly growing markets of Russia, Turkey, the Middle East and CIS countries, placing the country in the centre of transit between these regions. Furthermore, five pan-European corridors pass through Bulgaria's territory, including corridor № VII (the Danube river, connecting Bulgarian ports with the North Sea entirely by water) and TRACECA (TRAnsport Corridor Europe – Caucasus – Asia, connecting the country to Central Asia).
The agenda of the government to emphasize on the modernization of infrastructure in the coming years is set to reduce significantly the required time for transportation of cargo, placing the country in a pole position for attracting new investors interested in expanding their businesses in these geographies.
Benefits and Incentives to US Companies
Support from the Bulgarian Government
10% flat corporate income tax for all companies, with an Avoidance of Double Taxation treaty with the US in force;
Lowest cost of doing business, real estate and manufacturing costs in Europe, 30% lower in comparison with even Eastern China
European IP legislation strictly enforced; no negative record on IP breaches or revers engineering operations whatsoever;
Eligibility of a US entity incorporated in Bulgaria to a pool of EU grants – 120 USD bn. For R&D and Innovation, USD 3.5 bn. Grant pool till 202 for equipment renewal, 1.5 bn, USD for science and tech transfer;
Up to 10% of the investment reimbursed in the form of social security waiver for the employee and staff training, which will be covered by our authorities
Social Security, Retirement, and Healthcare costs full waiver for the first two years of operation, depending on size of investment
0% corporate income tax in economically depressed areas with unemployment above the national average
Importation Value Added Tax waiver for machines and production equipment imported outside of the EU
In some cases, depending on size of operation, central or local Government would invest for the building of the utilities to the door of the plant – water, electricity and the "last mile" in terms of a road if needed
Free one-stop-shop consultancy and assistance especially in negotiating with local authorities and the Environmental department for property and utility taxes, streamlined permits and fast track procedures provided by the Invest
Bulgaria Agency: you will have a key account manager there dealing exclusively with you
Additionally, assistance in picking a location in one of the 12 Government owned Industrial Zones – all permits and plot regulation is already done and all you will need is contract the construction and lease of the facility and start production
Support from the Private Sector
Consultancy in obtaining EU grants for the equipment (we provide you with a number of contacts of special grant application writers to choose from).
"Built to suite" developers who would finance your facility development tailored to your needs and either lease it back to you; two companies compete for your business.
Strong IT sector, 6th worldwide / second fastest internet speed in Europe
Streamlined logistics service on intermodal unit container trains to Northern Europe and Asian + Russian rail boxcars for our Asian markets, if there are such; we are the only European country handling both European and Asian rail track gauge;
Streamlined Headhunting and HR services from multinationals and local companies based in Bulgaria, especially for the engineering jobs!, as well as payroll and HR outsourcing from very efficient local companies servicing US and Western European customers already on a BPO basis;
Bulgaria still provides very competitive cost for HR consultancy and outsourcing operations, especially in the IT and BPO sectors. the The much more favorable time zone difference and highly innovative staff closer to Western ways of thinking and operating further contribute to the successes of the sectors;
Availability of engineers , especially electrical and mechanical – we provide service directly to the source – the Technical Universities of Sofia, Plovdiv, and scores of technical high school for electrical engineers and machinists
An extremely well-developed metal products supply chain, scrap metal, and ore both, in Bulgaria and the region; machining, casting, moulding and precise cutting and processing of steel and aluminium products a leading sector of the economy;
Growing customer base for US producers in the area – 750mln. consumers, 12 car assembly plants, 7 large shipyards, appliances and transport equipment plants, copper and gold mining, oil and gas production, all within a 400-mile radius.
Support from NGOs and the US Government:
US Chamber of Commerce chapter in Bulgaria existing for 20 years, very active and strong influence in society and Government
US Embassy in Sofia has 14 people teams to advocate for the US businesses in Bulgaria
About a dozen US automotive and industrial players already on site
Businesses with High Growth/Profit Potential
Medical equipment manufacturing, esp.
Metal tools, machining, forging, casting
Clinical trials and drug development outsourcing
Automotive parts and components
Beef and lamb raising and exports to Middle East
Retirement and assisted living communities – for EU and Russian customers
Medical tourism for EU and Russian customers
Campsite construction and operation
Intermodal transport operation Central Asia to Europe
Education – a US tech university issuing US diplomas training in engineering and Ag. For Middle Eastern and Central Asian students; engineering is in huge demand worldwide; the excellent precedent already exists with the highly successful American University in Bulgaria – in huge demand, issuing US diplomas to MidEast and MENA students; problem is it's a liberal arts college only;
Coal gasification, waste to gas for car propulsion significant amount of vehicles and most cabs run on LPG and CNG
Oil Micro refineries
Energy efficiency, off grid solutions, energy storage, smart grids, microgrids
Recycling and waste management – untapped potential due to EU implementing higher mandatory rates for segregated waste collection and capacity, thus generating demand for recycling capacity; particularly open niche in aggregates sorting and construction waste recycling; same valid for agricultural waste
Railway equipment and rail cars – vast opportunities due to forthcoming replacement of hundreds of thousands in the fleet of operators and need for dual compatible Russia – EU gauge freight railcars
Setting up Export Houses – consolidation of goods sourced for US retailers