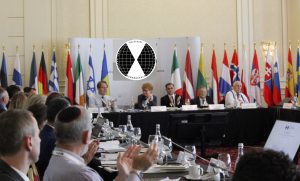 On October 18th, 2017, the Bulgarian Government took a decision to adopt and apply the International Holocaust Remembrance Alliance (IHRA) "Working Definition of Antisemitism". The decision tasks the Ministers and Heads of Agencies to take the necessary measures for the operationalization of the working definition in the areas of their responsibility. The Government proposes to the National Assembly (Parliament) to apply the definition in its future work.
In response to the European Parliament resolution on combating antisemitism adopted on June 1st, 2017, the decision of the Bulgarian Government includes the appointment of Deputy Minister of Foreign Affairs Georg Georgiev as National Coordinator on combating antisemitism. Mr. Georgiev will work with the relevant ministries and state authorities, as well as with civil society organizations, to coordinate policies and actions for preventing and countering all manifestations of antisemitism and to assure the application of the IHRA working definition and other international commitments. A key responsibility of the national coordinator will be to establish and maintain regular and formally institutionalized communication and consultations with the Jewish community and institutions in Bulgaria, including by virtue of a Memorandum of Understanding. He will be also responsible for the coordinated development and implementation of an Action Plan on Combating Antisemitism 2017-2020.
This decision of the Government is yet another evidence of Bulgaria's strong commitment to prevent and confront antisemitism, as well as all forms of hatred, intolerance and discrimination as a threat to our societies.
During the coming Presidency of the EU Council in the first half of 2018, Bulgaria will work to enhance EU's commitment to fight antisemitism, xenophobia and hate speech and to promote cooperation with the IHRA.