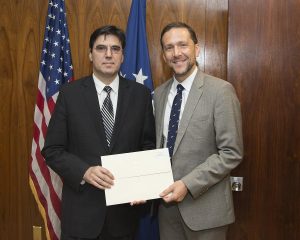 On June 23, 2016 the newly appointed Ambassador Extraordinary and Plenipotentiary of the Republic of Bulgaria to the United States of America H.E. Mr. Tihomir Stoytchev presented copies of his credentials to the Chief of Protocol of the United States Ambassador Peter A. Selfridge.
At the meeting that followed, Ambassador Stotychev emphasized the importance of the strategic partnership between Bulgaria and the United States and outlined the priorities in his future work for the development and strengthening of the bilateral relations. His main efforts will be focused on continuing the active political dialogue, incl. at the highest level, and enhancing the established strategic dialogue with the United States in key areas – defense and security, counterterrorism, energy security, the rule of law, education and people-to-people contacts.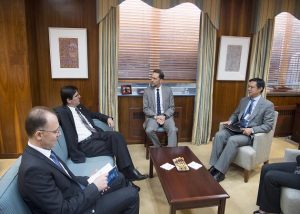 Ambassador Stoytchev pointed out that Bulgaria is a factor of stability on the Balkans and a reliable partner within NATO and the EU. Bulgaria's inclusion in the US Visa Waiver Program will be among the main priorities of the Bulgarian Embassy in Washington, D.C.
The American side expressed appreciation for the ambitious agenda outlined by the Ambassador and wished him success in his work.