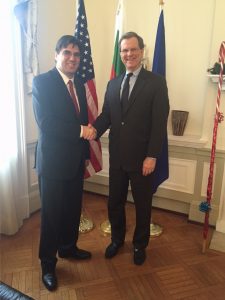 On December 19th, 2017, Ambassador Tihomir Stoytchev held a meeting with Mr. David Harris, Executive Director of the American Jewish Committee (AJC).
Ambassador Stoytchev expressed gratitude for the excellent long-standing cooperation between Bulgaria and the AJC and the valuable support it provided in the process of Bulgaria's accession to NATO and the European Union.
Mr. Harris congratulated the Bulgarian government for Bulgaria's acceptance as a Liaison Country into the International Holocaust Remembrance Alliance (IHRA). He also praised the decisions of the Bulgarian government to adopt and apply the IHRA "Working Definition of anti-Semitism", and to appoint National Coordinator for anti-Semitism.
Ambassador Stoytchev and Mr. Harris discussed the upcoming in 2018 commemoration of the 75th anniversary of the rescue of the Bulgarian Jews from the Holocaust. They agreed that the events should be focused not only on the historical facts but also on the relevance of the lessons of history nowadays, given the rise of nationalism, extremism, xenophobia and anti-Semitism in different parts of the world.