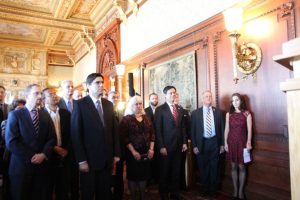 Celebration of Bulgaria's National Day!
On March 2, 2017 the Embassy of the Republic of Bulgaria to the United States of America hosted a reception on the occasion of the country's National Day. The celebration event at the Library of Congress was attended by US Congressmen, Administration officials, former American ambassadors to Bulgaria, members of the diplomatic corps, representatives of Washington based think tanks and NGOs, business community and the Bulgarian community members from the federal capital area.
The national anthems of the Republic of Bulgaria and the United States of America were performed by internationally acclaimed opera singer Guenko Guechev, professor at Duquesne University in Pittsburgh.
Official addresses were delivered by H.E. Tihomir Stoytchev, Ambassador of the Republic of Bulgaria to the USA, Representative Joe Wilson, Founder and Co-chair of the Bulgarian Congressional Caucus, and Mr. Hoyt Yee, Deputy Assistant Secretary for European and Eurasian Affairs at the Department of State.
On March 3rd, 1878 the preliminary peace Treaty of San Stefano was signed. The Treaty ended the Russo-Turkish War of 1877-1878, which led to the liberation of Bulgaria.
Images from Event