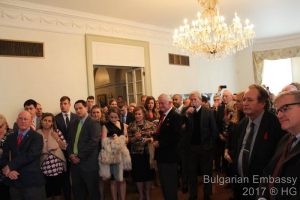 On January 19 the Bulgarian Embassy hosted a reception in honor of the inauguration of the President-elect of the United States. Congressman Joe Wilson, the founder and co-chairman of the Bulgarian Caucus on the Hill, was the guest of honor at the event.
The reception was one of the many festive events which are held in the federal capital on the eve of Inauguration Day. Many guests from Representative Wilson's 2nd Congressional District of South Carolina attended the reception.
In his welcoming address, Ambassador Tihomir Stoytchev emphasized the role of Bulgaria for saving its Jewish population during World War II, the strategic partnership between Bulgaria and the USA, the regional leadership of Bulgaria with regard to information and communication technologies' development, as well as the country's attractiveness as an outsourcing, tourism and investment destination.
Here are some pictures from the event: